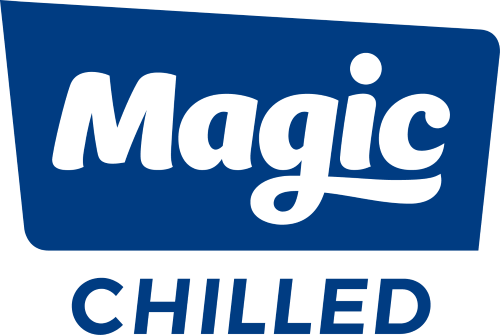 Find more stations in Easy Listening .
Magic Chilled - Digital Radio in the UK
Pop and R&B, 90s to Now
About Magic Chilled
Magic Chilled is a commercial radio station owned and operated by Bauer Media UK. The station plays low-tempo Pop and R&B music throughout the day and night, but with presented shows during peak times (usually during the day). It launched on 21st March 2016.
Breakfast starts the day at 7.00am, when Miri Green keeps the morning routine chilled playing the ultimate Magic Chilled playlist. Miri plays a mix of the biggest & best Pop and R&B to wake you up in the morning!
Eloise Carr takes over at 10.00am, with Magic Chilled Mornings. Eloise eases you into the day with the best Pop ballads and R&B tracks from the 90s, all the way up to today's freshest chilled out beats. Expect some fantastic music from Sam Smith, Lewis Capaldi, Mariah Carey & so much more.
At 1.00pm, the Magic Chilled Lunch Break has the playlist to get you through your lunch break. Sit back and relax to the greatest chilled-out classics and today's smoothest hits, with non-stop music from all your favourite artists past & present.
We're back to the music on Magic Chilled Afternoons with Jess Iszatt at 2.00pm, playing the biggest and best chilled-out music from the likes of Harry Styles, Beyonce and Alicia Keys. Don't forget, you can get in touch with Jess using the contact buttons below.
At 5.00pm, just as the hectic home drive time commences, chill out with features from different decades and topics. For example, these are shows dedicated to either the 90s, 00s, R&B favourites and music designed to allow you to unwind. The perfect soundtrack to home time!
At 6.00pm, Magic Chilled At Night takes over the airwaves and chills you out for the evening, playing non-stop classics, Pop and R&B from the 90s right up to today. This is the perfect end to your day, and guaranteed to help you wind down from a busy day.
At weekends, the schedule differs slightly. On Saturday, Kat Shoob wakes up the UK at 9.00am. Amelia Stocks takes the reins at 1.00pm while you're busy with the family or working through the weekend. Brogan takes you through Magic Chilled Acoustic at 4.00pm, and from 5.00pm the playlists continue with special features including music from certain decades, and music to get you through the evening.
The only difference on Sundays is that Brogan takes you through Magic Chilled Love from 4.00pm, and Magic Chilled Anthems commences from 5pm.
Of course, you can listen live online to Magic Chilled on DAB Digital Radio in the UK, and with us right here.
How can I contact Magic Chilled?
What frequency is Magic Chilled broadcasting on?
DAB Digital Radio, on multiple multiplexes across the UK:
- Bradford & Huddersfield mux, block 11B;
- Bauer Edinburgh mux, block 12D;
- Bauer Glasgow DAB mux, block 11C;
- Bauer Humberside DAB mux, block 10D;
- Bauer Inverness DAB mux, block 11B;
- Bauer Lancashire DAB mux, block 12A;
- Bauer Leeds DAB mux, block 12D;
- Bauer Liverpool DAB mux, block 10C;
- Bauer Sheffield DAB mux, block 11C;
- Bauer Swansea & South West Wales mux, block 12A;
- Bauer Tayside DAB mux, block 11B;
- Bauer Teesside DAB mux, block 11B;
- Bauer Tyne & Wear DAB mux, block 11C;
- London 1, block 12C;
- CE Digital Manchester DAB, block 12C;
- North & West Cumbria, block 11B;
- Stoke & Stafford mux, block 12D.

What can I hear on Magic Chilled?
Classic hits, Pop, R&B, 90s, 00s, 10s, 20s.
Where is Magic Chilled located?
London, UK.
Who is Magic Chilled owned by?
Magic Chilled is owned & operated by Bauer Media UK.
What is the current time where Magic Chilled is?